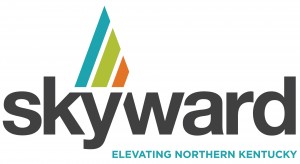 The Center is excited to partner with Skyward on expanding our Nano Grant program so that other folks in Northern Kentucky can access these funds!
The myNKY Nano Grant Program is brought to you by Skyward and the Center for Great Neighborhoods (The Center).  This program aims to encourage creative solutions to local problems.  Skyward would like to invest in Northern Kentucky residents, students, and workers with creative ideas to strengthen the community.  It is our hope that the myNKY Nano Grant Pilot Program will allow for experimentation and exploration of creative ways to build community.  The pilot program will begin in three different communities: one urban (Dayton, KY), one suburban (Florence), and one rural (Pendleton County), but it is the hope of Skyward that the program will expand to the full region in the future.
Funding is now closed and Nano Grant projects are underway! Check back for reports on these projects soon.
Online applications are here or you can download the application: 2016 NKY Vibrancy Nano Grant Pilot Application