Each year we host our annual celebration to recognize Covington community and business leaders for their dedication to creating positive growth and transformation in Covington and to celebrate the year's accomplishments.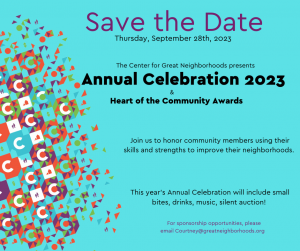 This event is sponsored by:
Congratulations to our 2022 Community Award Winners!
Great Neighbor Award: Charlotte Reed of Art Equals
Great Business Award: K & J Market
Heart of the Community Award Winners:
Amanda Wood                   Amanda Young                      April Coffee
Bill Stone                           Emmanuel Gray                   Eric Woodard
        Jim Feldhaus                          Mae Rice                        Melissa Silberstang
 Nancy Finley                   Rodney Randolph                Susan Barnett
View past Heart of the Community Award winners here.