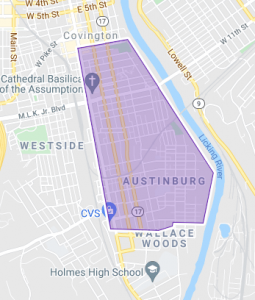 Eastern Neighborhoods Vibrant Communities Call to Artists of Color
Download Full Application as a PDF

Download Full Application as a Word Document
Made Possible by Generous Funding Support from Greater Cincinnati Foundation
Opportunity
The call is for Artists of Color to propose an artistic concept (visual, performance, etc.) and work alongside residents in Covington's Eastern Neighborhoods (map above) to develop unique place-based pieces in these Covington communities which have historically been underrepresented with arts and programming. Requests can be up to $5,000 which should include paying artists and any materials, equipment, etc.
Detailed Guidelines
These guidelines provide some basic information on where we are targeting this support, how the program works, and how to submit your application materials. While you can skip directly to the online application here, we encourage you to review this document before filling out the grant application.
The Eastern Neighborhoods Vibrant Communities is a program of The Center for Great Neighborhoods (CGN). Located in Covington, KY, CGN catalyzes thriving communities by bringing residents together and supporting their efforts to shape the future of their neighborhoods. We're committed to helping traditionally marginalized residents discover and develop their skills, find/use the resources they need, and connect with partners who share their passion for Covington.
Since 1976, CGN has worked alongside residents to foster vibrant communities by building on the City's assets, focusing on community and youth leadership, economic development through arts and culture, financial education, and the redevelopment of vacant and blighted structures. As we move into our 46th year of community engagement and empowerment, we continue to challenge ourselves to make sure all the work we do is filtered through the lens of racial equity, and we are wholly committed to creating opportunities that break down barriers for residents to achieve an equitable life. This call to artists is an opportunity for residents to engage with place-based original works of art in their own communities which have typically been underrepresented in the broader regional arts conversation
Important things to remember:
To apply, you must be a self-identified artist or an arts-related business, which includes but is not limited to individuals and groups engaging in music, dance, drama, performance, folk art, architecture, landscape architecture, painting, sculpture, photography, graphic and craft arts, industrial design, food, costume and fashion design, motion pictures, television, radio, film, video tape and sound recording. An artist does not necessarily have to derive income from their work but can apply as a business. Artists are self-identified but will need to provide examples of previous work to demonstrate capacity to complete the project.
To apply, you and/or at least 50% of your team must identify as an Artist of Color. Our organization places a specific focus on promoting racial equity, so we've made it a priority to commission artists specifically from this community.It is a priority for this program that the projects are open, inclusive, and make efforts to reach populations that may not have easy access to arts programming. The National Endowment for the Arts lists time, cost, access, and lack of people to go with as the four top barriers for people to attend arts programs. Populations that have difficulty accessing the arts may include low-income individuals, busy families, non-native English speakers, and people with disabilities. It is important that your project considers these barriers and has strategies to address them.
Please contact Shannon Ratterman with any questions. We are happy to help think through ideas, give advice on what a strong application looks like, etc. Please also reference the scoring sheet which is included in the full application to see how our team will score the proposals.
Contact info: shannon@greatneighborhoods.org
Frequently Asked Questions
Where can projects take place?
All proposed projects must take place in the Eastern Neighborhoods indicated on the attached map. You can specify a location, or you can work with residents and our staff to help you find one once your project is chosen.
Why only in the Eastern Neighborhoods?
Building on our proven track record of using arts & culture to both promote vibrancy in communities and to engage those residents most historically marginalized, we are working with resident leaders from Covington's Eastern Neighborhoods to conduct a yearlong series of arts-related projects/events with an emphasis on hiring Artists of Color. These communities currently have the City's highest poverty rate (51% of residents are at or below 150% of poverty level), lowest median sales prices for homeownership (currently $118,000 for single-family residential compared to $130k across Covington), and the City's lowest homeownership rate (less than 43% compared to 57% across Covington); the current demographics are 51% black; 36% white; and 13% Hispanic, making them some of the most diverse in Northern Kentucky but also traditionally underrepresented in arts and culture programming.
How many grants will be awarded & how much can someone apply for?
We anticipate making 2 grant awards and you may request up to $5000 for a project. Budget must include payment to artists and any necessary materials.
Can Youth Apply?
Yes, but the youth applicant must have an adult guardian cosign the application and be present at the installation, implementation, etc. of any accepted project.
What kinds of projects are eligible for support?
The project must be artist-led, and the application must present a strong case for how the proposed project idea will engage residents in participation, creation, etc. Projects must be open and inclusive to all ages and abilities. The artist must be able to provide previous examples of work that prove a sufficient capacity to be able to complete the project as outlined. Projects must be able to be completed within seven months from the date of award in April 2022 (see funding timeline below).  Funding is not eligible for projects that are already completed or partially underway.
Application Preparation
We are happy to work with any artist to assist them in applying for these funds.  If requested, we'll provide assistance with thinking through, designing, and implementing your project. We realize that not all applicants are familiar with Covington or have experience leading community projects. We would love to talk with you while you're coming up with a concept and help identify connections that will make your application stronger. We can also review your application and budget before it is submitted to the Review Panel to help you put the best application forward.  If you have any questions or would like assistance, please contact:
Shannon Ratterman

Program Director
859-866-7524
shannon@greatneighborhoods.org
Funding Decisions & Timeline
Grant decisions are made through a review process involving the Project Review Panel.  A sample score sheet is attached to this application. The Review Panel is made up of two professionals in arts related fields, two residents, and one staff person. After proposals are read by the Review Panel, grant seekers may be invited to discuss their proposal or may be sent additional questions.
Applications Due: 5pm on February 28th, 2022
Funding Decisions Made: March 31st, 2022
Project Completion: October 31st, 2022.
Financial Management
Your project budget should specify how you plan to spend the money awarded.  All grant awards will be disbursed through The Center for Great Neighborhoods.  We will write a check for 50% of the award amount after awards are announced and a letter of agreement has been signed and all other paperwork is turned in, including a W-9. A check for 35% of the award amount will be written at the project's midterm check in. The final check for 15% of the award amount will be written at project completion. We will write checks directly to an individual, organization, or business.
At the conclusion of the project, the applicant must submit a completed report. This report must include a detailed budget of how funds were expended and copies of all receipts or invoices. An artist may use funds to compensate themselves for their time and skills. These fees should also be properly documented and an invoice should be created to serve as documentation of how the funds were spent.
Project Implementation and Reporting
All funded projects will be assigned a staff person as a liaison.  This staff person can provide assistance in implementing your project and will be checking in with you regularly to ensure that the project is proceeding as planned.  Our staff is here to help your project be successful, so please take full advantage of this resource!